Joe's Eulogy
By Joe Petrick
For a second I wish I had not written anything to say, because then I could stand here and show you how I have felt for the past couple of weeks, I have been speechless. I've thought of this moment for days, spending that time reflecting on the moments I shared with Bobby. Frustrated, not knowing what to say when people offer their condolences, it seems like someone took my voice away and left me here with a million thoughts rattling in my mind with nowhere left to go. Now that I have written some of them down I'll try to tell you all why.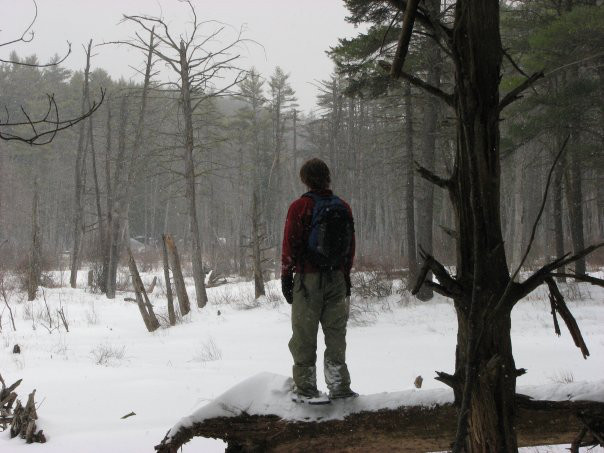 It starts with a memory of Bobby and I spending half a night talking at my parents' kitchen table. The conversation was accompanied by both Bobby and I experimenting with a new form of waterproofing for tables; playing with a wax candle we were able to coat a good part of it, the more important part of the conversation we had at that table was about how to live a good life. In the past two weeks I have thought about the essence of this conversation many times, for every time I think about when I saw Bobby, it always seemed that his actions were adding more words to the conversation than we could have ever discussed. He was living out that conversation, putting words to action.
I would like to thank Sam Field for the eulogy from a physicist he read two weeks ago. It reminded me of many moments with Bobby, and it gave me comfort with an idea which I will share with you all now. In my mind there exists a memory of Bobby. Sometimes I find it painful to reach that part of my mind but I know it is there. In each of your minds there is another part of Bobby which I may not know, and no one else but you may hold. I find a comfort here and now, that together in our minds, Bobby lives in a diversity of spirit and ambitions which he had in his own life. From a neurobiologist point of view we will carry Bobby's spirit within ourselves through our memories of him. When I say that I have been speechless it was because Bobby was part of my voice. His actions spoke of a free life the he and I once contemplated over a table of melted wax. It is this idea that he and I shared that I will spend my whole life continuing to expand on, so that I will keep this part of Bobby's spirit growing. I hope all of you here will join me in this and embrace the pain that comes with the love these memories bring, so that in the smallest way we can keep Bobby Alive.